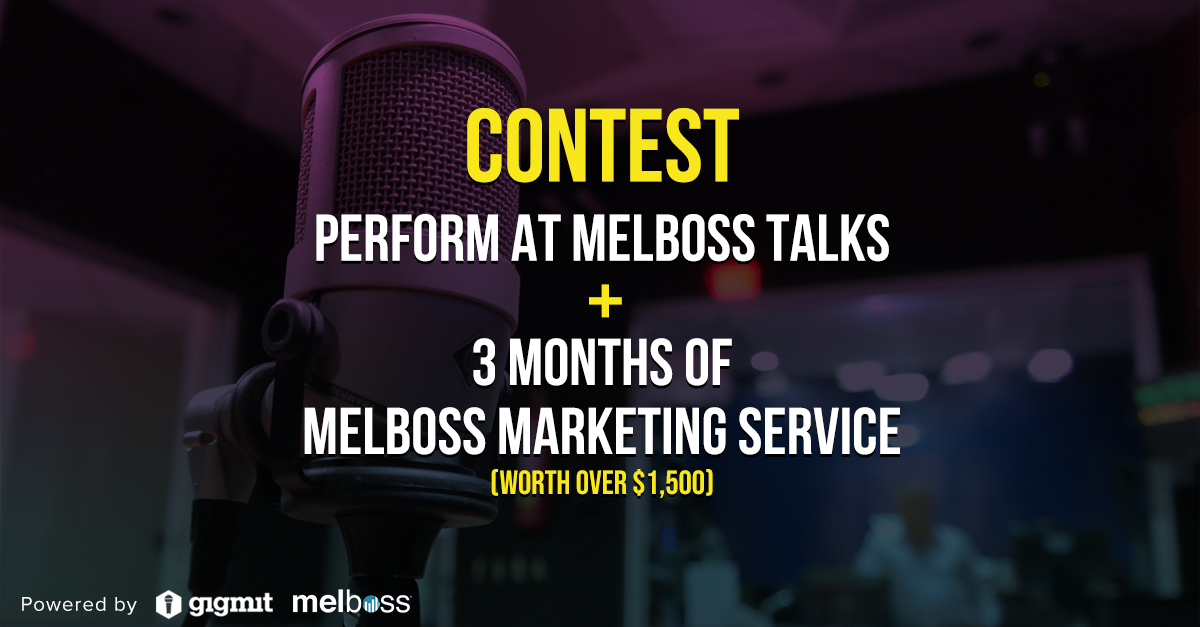 New Opportunity: Perform at Melboss Talks and get 3 months of Melboss Marketing Service (worth over $1,500)
Do you want to perform at our next Melboss Talks and also WIN 3 months of Melboss Marketing Service?
Melboss Music in collaboration with Gigmit is offering artists and bands from all over the world, the opportunity to perform at the next Melboss Talks presented by Marcus Fitzgerald (Gigmit CEO), and win 3 months of Melboss Marketing Service (worth over $1,500, more info at services.melboss.com).
The service includes audit and initial setup, creation and execution of digital marketing plan, creation of content for social networks, visual content adapted for social media and digital markets, setup and launch of ADs campaigns (budget not included), data analysis and reports of activity, results and demographics. All these services will be carried out between the months of January and March 2021.
All the people who send their application will be entitled to a 25% discount in the digital marketing service.
The event will take place on December 16th with the speaker Marcus Fitzgerald (Gigmit CEO) that will talk about "Gigs in COVID times – reinventing the live industry".
This exclusive event will be held via Zoom at 7PM(Madrid) – 1PM(New York) – 10AM (Los Angeles), with a maximum guest capacity of 100 music professionals. Artists and music industry professionals from all around the world are invited to join us.
This Melboss Talks event will be a great opportunity to gain a better understanding of the music industry and to receive first-hand feedback and experience from the guest speakers and attendees. Each Melboss Talks is complemented by live music from an invited artist- providing artists with more exposure and visibility.
Submissions period: November 5th – December 4th 2020.
APPLY TO THE OPPORTUNITY
If you want to assist to the Melboss Talks, please visit his page talks.melboss.com and reserve your spot.