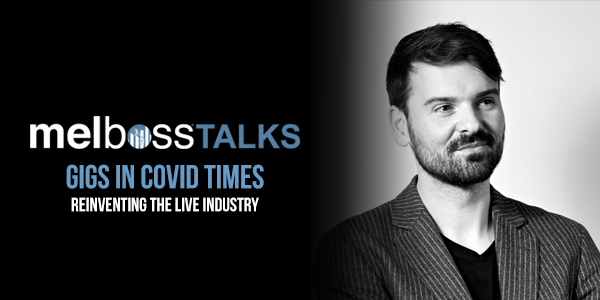 Melboss Talks Remote: "Gigs in COVID times – reinventing the live industry" with Marcus Fitzgerald
Mark December 16th in your calendars, because a new season of Melboss Talks is kicking off with a very interesting topic presented by Marcus Fitzgeraldand, CEO of Gigmit
Gigmit is an event database and booking management tool for live music professionals and covers the entire booking process from first contact all the way to the deal. The platform transforms a very time-consuming process into a transparent and simplified online procedure – thereby saving everyone's time and effort. The intelligent matching algorithm of gigmit.com is designed to help artists find better gig opportunities and promoters to find the perfect artist for their event. The platform creates a secure and fair business environment by automatically generating deal sheets for successful bookings.
For this new edition of Melboss Talks, Marcus  will be introducing a very interesting masterclass about  the "Gigs in COVID times – reinventing the live industry".
Melboss Talks (talks.melboss.com) features relevant professionals from different fields, who will help us better understand the music industry thanks to their knowledge and personal experience, creating a dynamic and interactive occasion for the attendees- who will get the chance to receive first hand feedback and experience from the guest speaker.
Music needs to develop more connections within the industry and this is the perfect opportunity to create one from different points of view.
Each Melboss Talks is complemented by live music from an invited artist, providing artists with more exposure and visibility.
HOW TO PARTICIPATE
To reserve your spot, use the link below and get access to this exclusive session up to 100 guests: talks.melboss.com
DETAILS
Event: Melboss Talks Remote Remote via Zoom "Gigs in COVID times – reinventing the live industry" by Marcus Fitzgeraldand
Date: December, 16th, 2020 
Time: 7PM(Madrid) – 1PM(New York) – 10AM (Los Angeles)
RESERVE YOUR SPOT