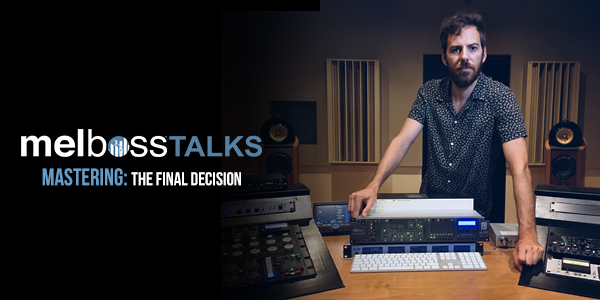 Melboss Talks Remote: Mastering the final decision with Miguel Ángel González
Mastering the final decision with Miguel Ángel González
Mark November 4th in your calendars, because a new season of the Melboss Talks is kicking off with a very interesting topic and guest speaker: Miguel Ángel González.
Miguel Ángel González is a mastering engineer and he has worked with artists such as Sergio Dalma, Manuel Carrasco, David Bisbal, Blas Cantó, Don Patricio, Dani Fernández, Las Migas, Maldita Nerea, Rayden, etc. In 2012 he opened Black Box Mastering and it has become one of the most important Mastering companies in Spain. They have released gold and platinum albums, latin Grammy nominations… amazing! We will also count with Marta Robles, member of the flamenco band 'Las Migas'.
For this new edition of Melboss Talks, he will be introducing a very interesting masterclass about  the Process of Mastering and he will talk about:
The importance of the Mastering 

We will analyze the fundamental sound aspects 

The most common mistakes in the proceedings
… and many other things!
Melboss Talks (talks.melboss.com) features relevant professionals from different fields, who will help us better understand the music industry thanks to their knowledge and personal experience, creating a dynamic and interactive occasion for the attendees- who will get the chance to receive first hand feedback and experience from the guest speaker.
Music needs to develop more connections within the industry and this is the perfect opportunity to create one from different points of view.
Each Melboss Talks is complemented by live music from an invited artist, providing artists with more exposure and visibility.
HOW TO PARTICIPATE
To reserve your spot, use the link below and get access to this exclusive session up to 100 guests: talks.melboss.com
DETAILS
Event: Melboss Talks Remote Remote via Zoom "Mastering: The final decision" by Miguel Ángel González 

Date: November, 4th, 2020 

Time: 18:30 (Madrid) // 09:30 AM (Los Ángeles)
RESERVE YOUR SPOT