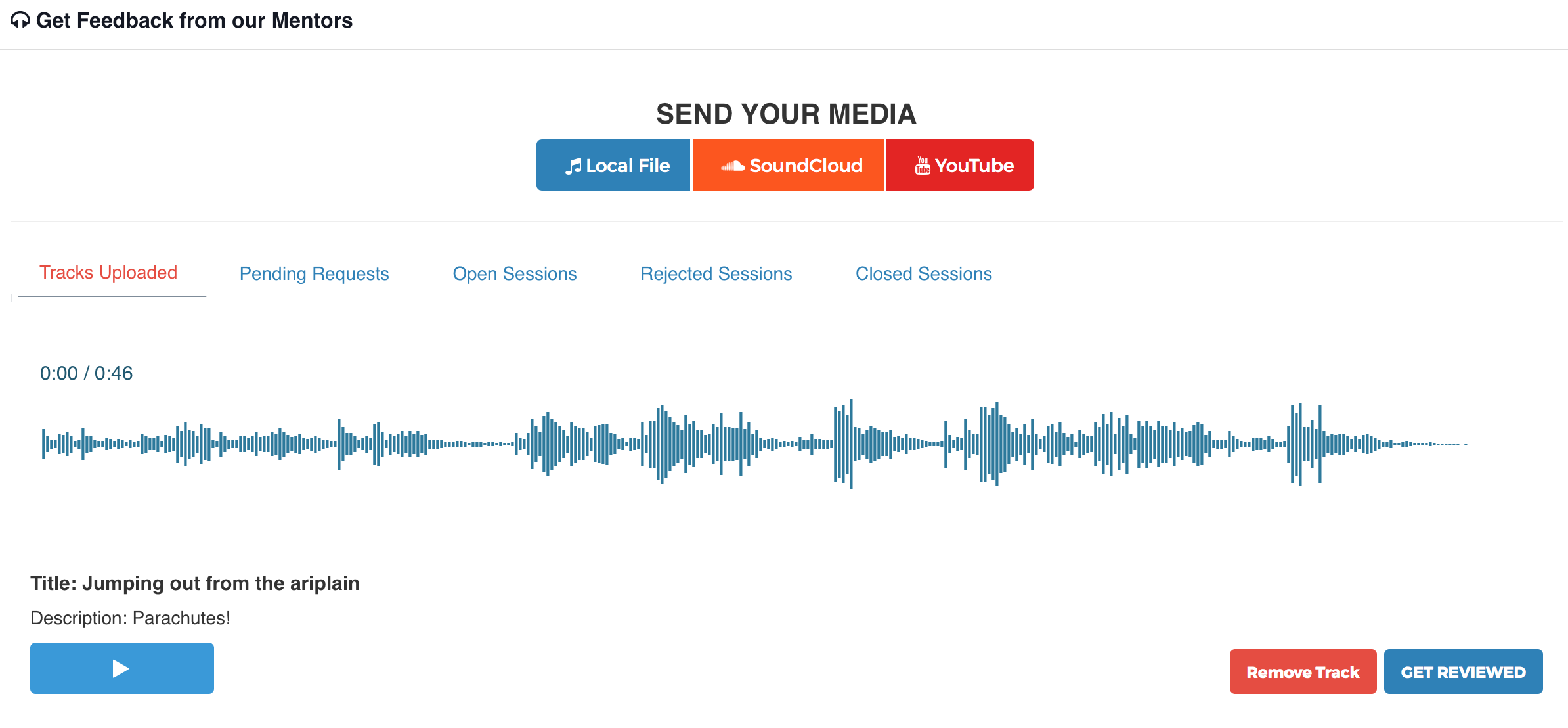 Mentoring service – BEST PRACTICE
The Mentoring Service is a way for up-and-coming acts to not only get their music heard, but to ensure that they are receiving advice early on in their careers, which could make all the difference.
This is a Melboss best practice that we share with anyone who wants to receive feedback on their own music.
1. UPLOAD YOUR MEDIA
The Mentoring Service is easy to find: just click on your avatar in the top right corner of your screen once you log in, click Dashboard after the drop down menu appears, and you'll see a place to begin the process. First, users can connect to any song they've finished or that they are working on, either from outlets like YouTube or Soundcloud, or they can upload the file itself if it isn't already hosted somewhere else. Just click the big red button that says Share Your Music.
2. DEFINE YOUR GOALS
After the song is up, you the musician need to decide what you want to get out of sharing your work with professionals. Do you just want them to hear it and be aware of you? Are you looking for advice on how to make a chorus even catchier? Perhaps you're just not sure how to edit something down into a more radio-friendly length. Whatever it is you're looking for, you can make note of that beneath the song, so those listening know what to keep in mind as they're playing your songs.
3. SELECT THE MENTOR THAT FITS YOUR NEEDS
Once the song is uploaded and you've defined what you'd like to get out of your Melboss interaction, you can pick which Mentor you'd like to work with, choosing from an ever-expanding list of impressively-credentialed musicians, producers, engineers, and executives. Each person comes with a certain number of credits attached to their names, so you know just how much it will cost you to have them listen and review your track. Don't have enough in your account to nab someone you'd really like to work with? No worries, you can add more money at any time via PayPal or a credit card.
4. FOLLOW UP RESPONSES
From the time you send the song off to a mentor, they will have two days to get to work. You'll be able to see how your chosen mentor has progressed with your song, and once they hit accept, you will be able to chat with them. If you're working with a musician, they can even send you back a bit of music, if, for example, they have suggestions on what to do with the guitar bit here or the synth line there. What started out as a simple request for advice could turn into a full-fledged collaboration!
Music can be a very collaborative process, whether it be with other musicians, people in a studio setting, or perhaps just in the form of getting feedback from people you respect in the business. It has never been more important than today to create the best tunes possible and to stand out from the crowd, and working with a mentor can help you achieve that.