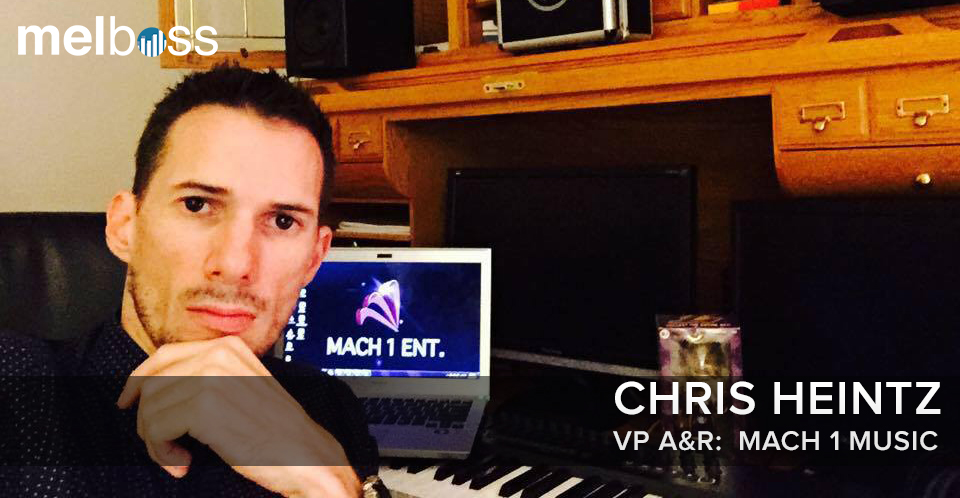 Melboss presents Chris 'Clutch' Heintz
Melboss presents Chris 'Clutch' Heintz.
We are thrilled to welcome the Vice President of A&R at Mach 1 Ent. , Chris Heintz as our newest Melboss mentor.
Across his career Chris has landed placements with BET, Universal Republic, Cash Money, We The Best/DJ Khaled, and recently set up a partnership with Motown/Compound Ent. He has worked with notable names in the business such as Bridgetown producer for Mary J Blige, Ne-Yo, Trey Songs, K Michelle, and more, APG producer Sermstyle (Pitbull "Timber"/Flo Rida "How I Feel"), Lee Major (Producer for Jay Z, Young Jeezy, Wale, Rick Ross and many more) DJ Speedy producer (Beyoncé, B.O.B, Big Boi,etc.), RoccStar Atlantic artist and producer/writer (Chris Brown "Fine China", Timbaland, Sevyn Streeter, JLo etc.), Producer Matthew Burnett (Grammy nominated and Juno Award nominated Eminem, Drake, Lil Wayne, Young Jeezy, Bun B, Big Sean, Meek Mill, Tyga, Marsha Ambrosius, Nicki Minaj and Childish Gambino), RCA artist "Mario", Producer/writer Eddie Galan (20 times platinum High School Musical, Hanah Montana, Akon, O Town etc.) Rikanatti producer (Eminem, 50 Cent, The Game, Rick Ross, Busta Rhymes etc.), Chris N Teeb (50 Cent, Ciara, JLO etc.) We The Best Music Group/Cash Money Records artist Prospecct, Chizzy producer (Chris Brown, JLO, Justin Bieber, Candice Glover etc.) and many more.
1. First off, tell us a little bit about yourself. How did you get into this line of work and what exactly does an A&R Representative do?
I'm currently VP., Talent Manager and Head of A&R for Mach 1 Ent. I started off as a producer and have been on the business side for a little over 5 years now. While working with a writer I met Eddie Galan a 20 times platinum songwriter who is now my partner at Mach 1. He asked me to A&R for him and I worked my way up the ranks to VP of the company and Head of A&R. As an A&R it's my job to work with and develop talent from producers to songwriters as well as artists. Outside of shopping music to major labels/artists/manager's as well as TV/Film licensing opportunities I also assist in the creation of tracks/records, introduce producers to writers and vice versa, set up studio sessions, assist in vocal production and music production in-studio, help mold the sound for our artists and much more.
2. How can a band get onto your radar and how do Record Labels scout their acts?
Talent is first and foremost for me when it comes to bands/artists. I also look at the other factors like how hard do you work, are you already branding and promoting yourself, are you a strong performer, does your music stand out and is your team strong.film T2 Trainspotting streaming
3. How much is what you do based on intuition vs. experience?
Great question. I believe that experience is everything, but you have to go with your gut in certain circumstances. I do feel like the more experience you have though the better decisions you'll make along the way.
4. How important are festivals like SXSW to you when it comes to scouting new talent?
I feel like festivals such as SXSW are a great way to find potential talent. There are so many different bands/artists with their own niche that perform at these type of events. You can also see firsthand the talent that really has "It" and those that need development.
5. What is the biggest mistake a band can make when trying to gain industry attention?
The biggest mistake a band can make in my opinion is force-feeding your music to industry reps that never asked to hear it. Yes you have to get your music out there, but the goal is to make enough noise so that either they come knocking on your door or so that your indie movement is strong enough to keep you afloat financially without them.
6. Any advice you would give to an aspiring industry professional trying to get an A&R job?
With A&R it's all about relationships. Now I don't A&R for a record label so I'm able to move more like a freelancer, but one thing that stays true in A&R is that you need to be networking and opening up new opportunities for yourself and your team at all times. Make sure you attend industry events and meet new people that you can build with. I've had 5 year relationships that are just now really paying off.
7. Any final words of wisdom?
Like anything else making it in this industry takes time. Build a strong foundation with a great team that you can trust and get things moving. Bring people aboard that have strengths that you may not necessarily have. If each spoke of the wheel is strong the ride is much smoother to the destination. Lastly BE PERSISTENT!
RECEIVE PRECISE FEEDBACK ON YOUR MUSIC AND INVALUABLE CAREER ADVICE.