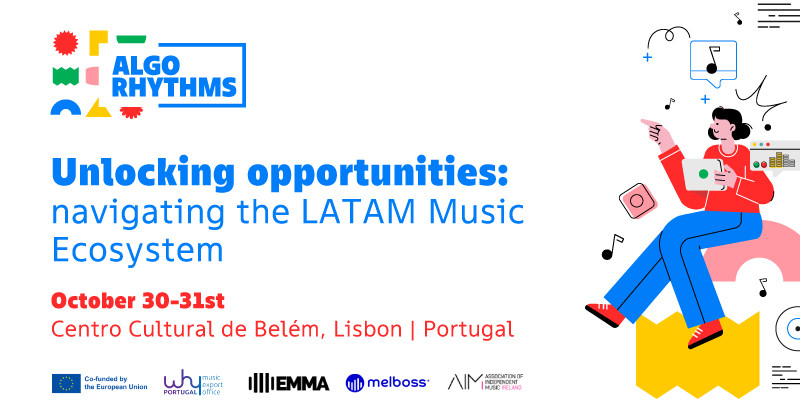 Empowering European Artists to navigate the LATAM Music Market
In today's increasingly competitive music industry, European music artists face numerous challenges when it comes to finding their audience. The oversaturated European market, as well as the predominance of mainstream genres and artists, can make it difficult for talented musicians to get the recognition they deserve and look for. However, the growing popularity and economic potential of the Latin American music market present a unique opportunity for European artists to expand their reach and explore new possibilities. 
Algo-rhythms is a game-changing project that leverages the power of AI and Smart Data Solutions to help European artists penetrate the LATAM market and achieve greater success. This project will also provide personalized mentoring, training, and support to empower artists with the tools they need to take control of their careers and navigate the growing LATAM music industry.
Alongside our strategic partners Why Portugal, EMMA, and AIM, Melboss is excited to announce the first of three bootcamps that will take place during the project "Unlocking opportunities: navigating the LATAM Music Ecosystem". The bootcamp will take place October 30th and 31st in Lisbon, Portugal. Participants will have the opportunity to assist either face-to-face or online.
During the bootcamp, artists will engage in a series of master classes, workshops, panel discussions, and networking sessions. From market entry strategies to audience engagement, distribution channels, and marketing tactics specific to the LATAM region, artists will gain valuable insights and practical tools to navigate the complexities of the LATAM music ecosystem.
This immersive experience is designed to equip European artists with the knowledge and insights needed to successfully understand the dynamic LATAM music market. As a special highlight, industry experts with extensive experience in both the music industry and the region will join us as guest speakers and mentors.