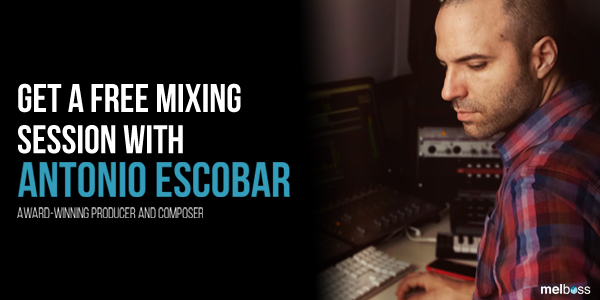 Win an exclusive mixing session with Antonio Escobar
Do you want to win an exclusive mixing session with the music producer composer, and sound engineer Antonio Escobar who's worked with artists such as John Legend and Zara Larsson? 
Melboss Music is now offering you the opportunity!
Antonio Escobar is a Spanish-born producer, composer, and engineer. With over 25 years of experience in the music industry, Antonio has earned an impressive collection of awards and nominations from international festivals such as Cannes, Premios Goya, Medina del Campo, San Sebastian Festival, APPE Awards, and the New York Film Festival.
His name can be found in the music credits of dozen of movies, such as Netflix's Klaus or Toc Toc, TV series, hundreds of commercials for big brands such as Renault, Peugeot, Ford, Coca-Cola, Pepsi, Mercedes Benz, Audi, Mini, Sony PlayStation, and songs with artists such as John Legend, Zara Larsson, David Bisbal, Carlos Rivera, Dan Croll, Jorge Pardo, Bomba Estéreo, Nena Daconte, Carlos Baute, Vanesa Martín, Merche, among many others.
Some of Antonio's outstanding abilities include an imaginative approach to production, attention to detail, the capacity to work with any kind of musical style, and staying connected with the latest audio production trends. We are very proud to say that Antonio Escobar is part of the Melboss Mentoring Team.
Click the link below to get more info on the opportunity. We can't wait to see what you come up with!
How to enter
Melboss Profile
If not already a Melboss user, register and complete a profile here at melboss.com Users must have the following uploaded to their profiles before entering the opportunity:
Photos of the artist or band
Videos of the artist or band
Biography
Upload a song
After completing the profile, users MUST apply on this page, uploading the song they want to be considered. Users who do not upload a song will not be entered into the competition.
Submissions period: September 07 – October 23 2020.
Contest rules
The contest is open to bands/ artists who are 18 years of age or older on the date of song submission. Any entrant who is a minor in his or her jurisdiction of legal residence will be required to obtain and submit written permission from his or her parent or legal guardian to participate in the contest.
For the purposes of the competition, a song must have both lyrics and music. All submitted songs must be original and have been written or co-written by the entrant(s).
The song doesn't have to be high quality recordings, just something for Antonio Escobar to get the feel of your material
Artists from anywhere in the world are eligible to enter
Winner will be announced October 29th, 2020
Selected artist/band
The winner will get a free mixing session with Antonio Escobar.