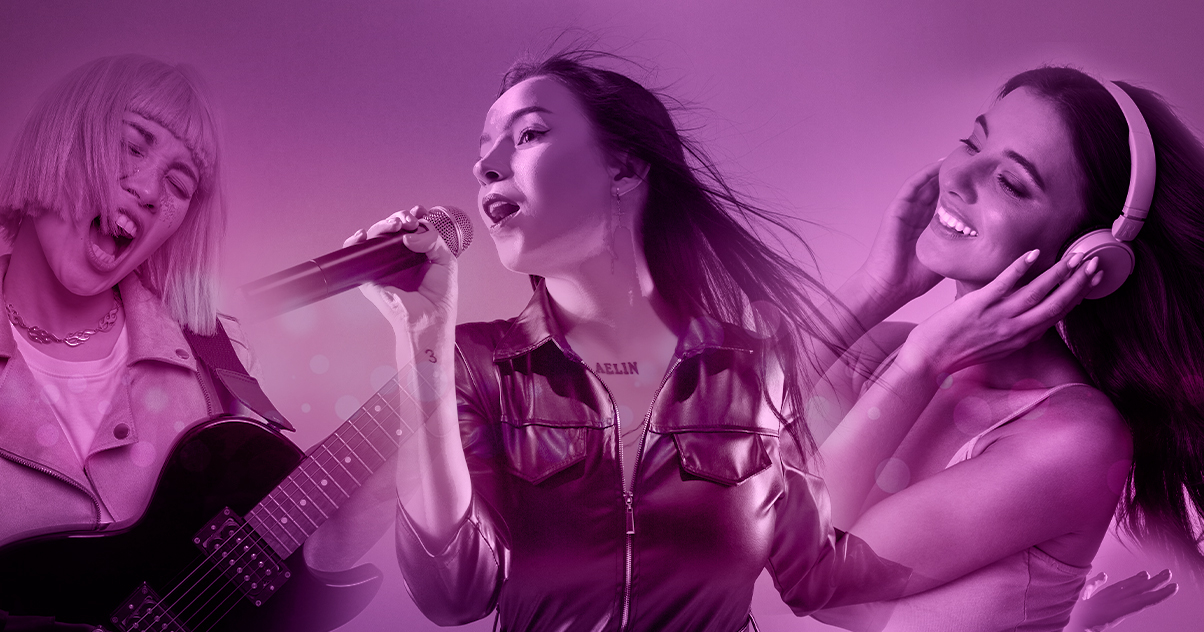 Influential Women In Music
Throughout the industry's evolution, women have been integral in the shaping music as we know it today. From Aretha Franklin to Barbara Streisand, Adele or Billie Eilish, female artists have paved the way for future generations by redefining genres, challenging the norm, and breaking barriers by transforming the music industry with their creativity, talent, and perseverance. 
Today, we will go through some of the achievements along a trail of countless contributions made by female professionals of the industry.
The famous Latin singer has recently made history with the release of her album "Mañana será bonito", which was released on February 23rd. How did she make history? Well, the album will indeed debut (dated March 11th) on the top of the list of the Billboard 200, being the first female Latin artist to enter at Nº1 with an all-Spanish album by a female artist. 
The reason behind this historic debut is the popularity of the singles released by the artist. The album has built up a shocking number of early equivalent album sales (94,000. units). Moreover, it has been registered as the highest-streamed Latin album by a female artist.  Billboard 200 measures its popularity with multi metrics that consider both TEA (Track Equivalent Albums) and SEA (Streaming Equivalent albums).
The singer that sky-rocketed with "Unholy" featuring Sam Smith, recently received the Chartbreaker Award in the Billboard Women in Music celebration. Not much earlier, she was also rising to the top 1 in the Billboard 100 with her famous single, as well as accepting the latest Grammy for "best pop duo" with Sam Smith.
All of it, being the first transgender woman to achieve all of these awards, certainly inspiring future generations.
The Spanish icon Rosalía has been recently awarded with "Producer of the year" at the Billboard Women in Music awards. "I'd love to dedicate this award to all the women that are gonna be producers because I'm definitely not the first one, and certainly won't be the last one" she said in her acceptance speech. 
This is her latest award in the list of breaking-record Latin Grammys, her also recent Grammy award for "Best alternative album" and many more achievements in the past few years.
The international star has not only transferred her cultural roots through her first masterpiece "El mal querer", but has also experimented with genres and empowered women with her latest artwork "MOTOMAMI". 
Along a trail of success, Taylor Swift is one of the most influential artists of the 21st century. Not only has she won numerous awards and broken multiple selling records, but she marked the industry business by re-recording her famous artwork. This case has marked a turning point for copyright and royalties in the legal music business, causing labels to supervise and rearrange thousands of contracts.
The transcendence in this case, goes back to 2019 to 2021, where her old record label, who owned part of her music catalog, was sold. After getting repeatedly denied to get her music back, she made the decision to record her albums again, this time, in "Taylors version". She started with her album "Fearless", followed by her album "Red" released in late 2021.
This move by Taylor Swift has the potential to change the way artists approach the ownership of their music in the future. Taylor Swift's re-recording effort is not just about reclaiming her music catalog, but also about empowering artists to take control of their own creative output.
However, we mustn't forget about businesswomen. Names like, Clive Davis, being one of the most influential record executives of all time; Silvia Rhone, the first African American woman to run a record label, and Julie Greenwald or Desiree Perez, COO's of two of the biggest and successful labels in the industry, are just a few of a long list of women that keep paving the way and making space for women in the industry.
Definitely, the achievements of women in the music industry are commendable and deserve recognition. They have overcome many obstacles to become some of the most influential and respected figures in music history.Women will continue keep inspiring future generations, improving and amplifying female voices in the industry.
Female artists to watch out this 2023
To wrap up, we will highlight some of the upcoming announcements and tours of our favorite female artists for this 2023. However, we can't forget to mention the countless promising artists like Ayra Star, the Afropop experimentalist; or Doechii, the recent emerging artist award-winner, who look into the future stardom of music. But first, don't forget to tune into the woman powerhouse with our latest playlist!
Upcoming annuncments:
Beyonce: Not only will she start her "Renaissance Tour", but has also teased her fans with two upcoming albums which date is yet be announced. Will we enjoy another album this 2023?
Lana del Rey "Did You Know That There's a Tunnel Under Ocean Blvd ": Since her last album in 2021, Lana is back with more iconic hits. The album will be released on march 24th.
Paramore: With their new album "This is why" released, Paramore will be on tour for the next year, and they are know to hype up every crowd!
Lizzo: The international star will host the international "Special tour" where you will enjoy her greatest hits… And see her master the flute!
Madonna: Madonna will celebrate her four decades as one of the biggest artists of all time with her "Celebration tour", making an ode to her musical journey
BLACKPINK, Pink, Normani, Selena Gomez, SZA, Jennifer Lopez, Cardi B, Taylor Swift…and more. This year is definitely looking good.