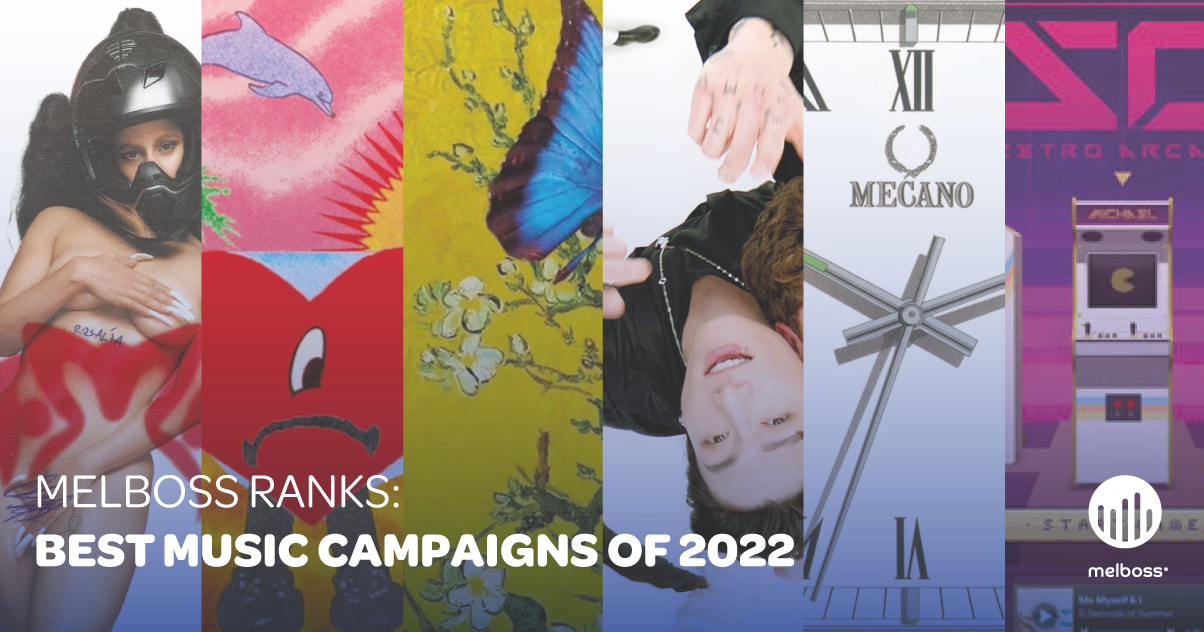 Melboss Ranks: Best Music Campaigns of 2022
2022 was a crazy year for music. We were witnesses of the consolidation of Bad Bunny as the biggest artist worldwide, Harry Styles broke records with his song 'As it Was', and a lot of legendary bands like Placebo, Paramore and Yeah Yeah Yeahs returned to the stages after many years. We can say this is the year that music became, without a doubt, THE main social phenomena on Social Networks. Almost all topics and trends involve music, and artists move around them to promote their own music. There's no way an artist can find themselves a spot in this industry without creating an interesting and echoing campaign on social media.
That's why, we at Melboss, decided to sum up some of the best and most original music marketing campaigns of the year.
MOTOMAMI – Rosalia
MOTOMAMI by Rosalía has been the most streamed album of the year, and a significant part of these streams go beyond Rosalia´s talent, her musical quality and that of the figures involved in producing  the album, but rather the narrative that was developed around the record was also responsible for its success.
Rosalía achieved a concept album that dominated the online and offline stage, beginning with a strong pre-release campaign in which her live appearances were key to generating expectations: the blurred cover on the Jimmy Fallon show, her live performance on Saturday Night Live and of course her presence on El Hormiguero. While making all these physical appearances, TikTok and Instagram were accompanying each movement and contributing to the rise of expectations.
She celebrated the release of her album with a TikTok Live that has gone down in history as one of the most exquisite live performances of these times, the closest thing to a concert that can be experienced through digital. The strategic use of each of the platforms and tools at her disposal have made a viral album.
The post-release was equally iconic as she sat down with YouTuber Jaime Altozano and broke down song by song as they revealed MOTOMAMI's secrets. The entire deployment of the campaign was an example of how the artist is a product of these times and not only dominates today's codes to perfection, but is capable of creating them.
Un Verano Sin Ti – Bad Bunny
Un Verano Sin Ti has been a display of genius from the point of view of communication. The artist has always been known for being unpredictable and this album is the perfect example.
The campaign started with short videos on the beach that already recreated sensations of what we could expect with the album. He involved figures like Mario Casas for these videos that created more and more curiosity as he continued posting.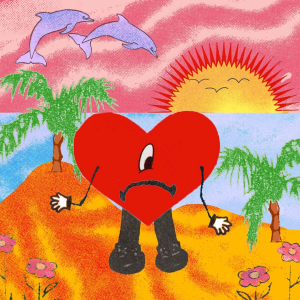 Before releasing official videos, when the album came out, he created visualizers for all the songs that allowed you to walk the entire beach with the 360 ​​tool and interact with the artist and the scenery while listening to the music.
From the visual perspective, the heart logo has won everyone's hearts. He appeals
to the nostalgia that summer always leaves when it ends, and in the particular case of the artist, they are references to places he visited in his childhood. Today, the heart is an element that is easily recognizable by everyone and it is not only the image of the album but also the identity on which the campaign is based. Associating music with a single image is a complex action, but one that if done well can take the communication and visibility of your project to another level.
His use of online tools is also remarkable: with an Instagram Live lasting almost four hours in which he tours the entire album, reveals details about the songs, and interacts with his fans while also doing giveaways.
Golden Hour / This is what __ feels like – JVKE 
Jacob Lawson, known as JVKE, comes from the litter of TikTok musicians that got recognition during the COVID-19 lockdown in 2020. After some time making videos for his songs, one of them went viral in 2021 and made him famous around the pop scene. After gaining popularity, JVKE embarked on a campaign trying to boost even more the virality of his TikTok videos, playing around with the network algorithm. 
He planned the release of his debut-album in 2022, but instead of doing it the traditional way, he divided the album in 4 EPs of 3 songs each, with a single leading the 4 of them. One of the songs, 'Golden Hour' went globally viral and helped to make every EP go viral too around the TikTok users. 
The secret of JVKE was to spam the platform. Basically, he made lots of different videos for each song. 'My mom reacts to my new song', 'My piano teacher reacts to my new EP', and in general doing lots of videos of reactions. He even reacted to any person that made DUOs with his videos, spamming his account with content, but the platform rewarded him with lots of visibility. 
Left and Right (feat. Jung Kook BTS) / Light Switch – Charlie Puth
Charlie Puth needs no presentation. Charlie has been on the rise as a popstar for years now and his music has gone around the globe time and time again, but that doesn't leave him behind on creativity and marketing campaigns. 
He wanted to overhaul his music, so he started the composition of his new album through the feedback
he got from his followers on TikTok. Showing almost every part of the process and adding/changing things his fans suggested. He uploaded lots of videos to the platform reacting to comments such as 'You wouldn't dare to make a song with the sound of a switch', 'You should make a song with the sound your door makes". He made lots of videos of how he created the videos, recorded them and produced them to make them a whole new song. And to release them on platforms, he asked for an 'x' number of likes or comments. There was a time in which Charlie had that much engagement that he featured on almost every For You page of any user in the platform. He even went on to The Tonight Show of Jimmy Fallon and created a song there with a cup and a teaspoon.
It seems like the key to the success on TikTok is being really stubborn about posting a lot of content, spamming the algorithm and always looking for more engagement, that's what worked for Charlie and JVKE. They never stopped posting content.
Mecano – 40th Anniversary
Mecano set out to celebrate the 40th anniversary of  their eponymous album, a work that features some of the band's most iconic hits that have endured over time.
The goal was to promote the album in the context of their 40th anniversary not only among their traditional audience, but also among new generations.  For this purpose, a  campaign was carried out with influencers in Tik Tok where, based on an audio-mashup made with several singles from the album, the content creators had to recreate, in a humorous way, the phases of a hangover coinciding with the fragments of the mashup songs. This audio went vira and lots of videos were being created by different users in the TikTok App. Thanks to this virality, these classic songs rom mecano got a peak in streamings in Spain and Latam.
This activation in networks was combined with a paid campaign in social networks through a series of audiovisual pieces that played with the famous album cover to show a journey through time with the most representative songs of the album. 
Mecano´s campaign used the humorous potential of TikTok to bring old songs of a genre that's no longer mainstream to young audiences, who ended up loving the trend and discovered songs that will never get old.
5SOS – 5SOS Arcade 
5 Seconds of Summer arised as really energetic emo/pop-punk band in the early 2010s, gaining popularity all across the globe even though their style wasn't that close to the mainstream pop music that was being done by boy bands and boy artists at the time (Look at One Direction and Justin Bieber). After their success with their first album they transitioned to a more Power Pop / Electro-Pop style. But they never left their alternative way of doing things.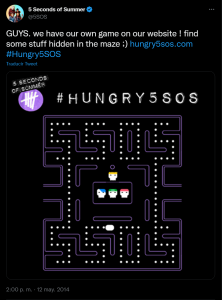 One of their first campaign was launching an alternative Pac-Man game where they left around some hints about their new music.
But this year they took this idea and brought it to a whole new level: they created a website with different arcade games. You need to log-in with your Spotify account to start playing.
The website was primarily focused on promoting the preorder and presave of the new album, but they even started a play-to-win campaign in which the player with best scores could win one of their deluxe merch packages. The new album blew out on Spotify on release day and people played on the website like crazy. 
This new kind of transmedia campaigns are the future. The engagement video games generate is crazy and this kind of original proposals always stick to the mind of fans for a long time.
What do we take from all this?
With these examples we have learned a really important thing: creativity is king. The next gen musicians have not only gotten where they are with talent and good music alone, they and their teams found ways to stand out in a market full of competition. If you want to embark on outstanding campaigns and find creative and mind-blowing ways to promote your music, Melboss Music can help you take your music to the next level.