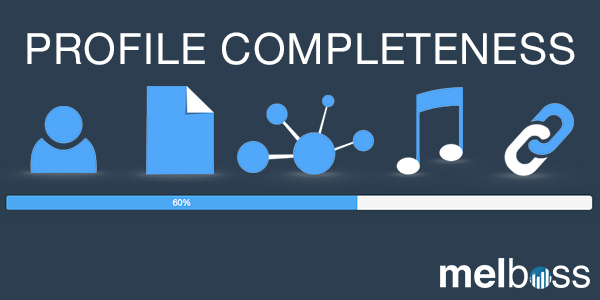 Simple steps to a complete Melboss Profile
We often make changes to Melboss to improve the experience based on feedback from our members. Today, we're changing how we calculate profile completeness, which can make all the difference when it comes to grabbing attention.
The new calculation gives you more control of your score by emphasizing the things you have direct control over, like the Skills, Media and Social Links sections and by putting less weight on areas you may have less control over, like Reviews. Stand out from the crowd with a complete profile.
Did you know that adding a profile photo makes your profile seven times more likely to be found in searches, or that having your most recent videos and music makes your profile an even more incredible twelve times more likely to be found? Though they may seem simple, updates like these make a difference.
Here are quick steps to create a complete profile and ensure you're putting your best foot forward:
1) Add an avatar and a cover photo – 25%
Nobody wants to look at a blank profile! You're not boring, so why should your page be? Including photos brightens things up and shows people who you are, whether that be via a real photo or an avatar that you feel represents you.
2) Write a bio about yourself – 25%
Don't assume that people will know who you are or what you've done—tell them! It doesn't need to be long or filled with braggadocio in order for it to get the message across. You've likely done some cool things that will make people want to know you and work with you, so why wouldn't you share it?
3) Have one or more skills on your profile – 15%
Just like with your bio, it's unwise to hold back any of the work you've done. Sharing songs is one thing, but what about all the other skills you've picked up along the way? On top of, say, songwriting, are you great at mixing? Engineering? Networking? There are plenty of skills that aren't obvious to those who don't know you, so tell people!
4) Add your media – 30%
This one should be a no brainer, and it's the most important one for obvious reasons. If people can't see, hear, or watch what you've created, why would they want to work with you? As you're adding, make sure you share different kinds of media, including songs, videos, and photos.
5) Add your social links – 5%
While people will be able to look through your photos and read your bio, they might still want to get to know you a bit better before working with you or reaching out. Connecting your Twitter, Instagram, and Facebook allows users to get a real sense of who you are as a person.
Filling your profile will ensure that it will appear in Melboss search results and A&Rs, producers, managers, mentors and other musicians find you opening up new business opportunities. A complete profile helps you stay connected and competitive.  And don't forget, freshness matters, so be sure to update your profile.