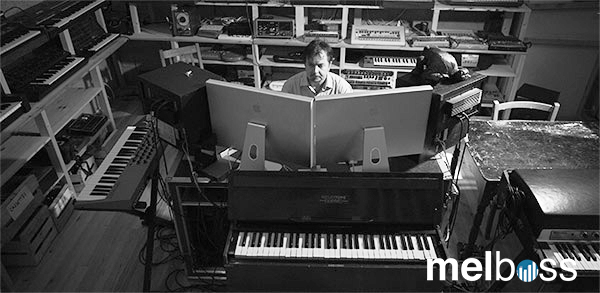 We are thrilled to welcome an admired British producer of modern music, James Sanger as our newest Melboss mentor.
It would be easier to list the artists he hasn't worked with but we'll tell you who he has worked for just in case.
The long list goes something like this: U2, Madonna, Dido, Phil Collins, Manic Street Preachers, Kylie Minogue, Mel C, Brian Eno, Keane, Sinead O'Connor, The Cardigans, Roxy Music, Bryan Ferry, Pet Shop Boys, Joe Satriani, Bryan Adams, Siobhan Donaghy, Annie Lennox and The Cure and many many more.
Across his career as a programmer and producer, his works have amassed over sixty million record sales, three Brit Awards, eighteen Grammys, and two Ivor Novellos. He has made a brilliant contribution to modern pop music and we are really happy to have him joining us at Melboss. This summer we had the honor of meeting him to discuss his prolific career.
You have an incredibly successful career so far and have had the freedom to do what you love. What do you most enjoy doing now ?
Well, my heart really is with developing new artists, finding new artists and helping them establish their sound become well known. Anyone can take an established artist and continue their successes but the challenging thing is finding and developing fresh new talent and then breaking it to the world. That is where my heart lies. I feel that creating artists is a kind of art-form in itself I find it to be very satisfying, artistically and musically. I have a saying that is 'If you do what you love, the universe will reward you'. and so, in a way, my main ultimate goal is just to keep doing what I love… 🙂
When did your passion for music start and what were your early references in terms of sound and production?
I attribute my love of music down to the fact that as a child I had really bad asthma. When I woke up unable to breathe, my mother would sing to me and calm me down. I learnt from a young age to respect the power of music and sound. I became a fan of Pink Floyd, Roxy Music, Sid Barret, Durrutti Column, New Order, Brian Eno, David Bowie, King Crimson, Joy Divison, The Cure, Kate Bush, David Gilmour, Annie Lennox. I really love the sound of people who are being musically free, creating what it's in their hearts rather than what they think will sell or will be acceptable on radio and I try and develop and encourage this in all my artists.
We find that your productions are completely exceptional and inimitable but how would you describe your music?
First there is the artist and their individual, unique vibe… I like to create them in the way that I hear them… sometimes embellishing their mistakes rather than erasing them! Pop music these days is too perfect and has moved away from the actual "perfectly imperfect" artist and into the realm of the machine… this is a sad and worrying trend, the results of this can be seen in magazine artwork Photoshop-ed photos of women and in the musical world with people who in reality can"t sing, who end up singing like computers ! to beats that are perfectly linear in timing and dynamics… some of this sounds great actually, but there is a lot of it that is basically carbon copies of previously released work and so not unique or original.
I often spend ages putting the subtle "variations" and imperfect back in…
I like to pick out new and original ways to use sound to evoke emotional responses… I like to think that some of my sounds can make you feel something, sadness… melancholia… happiness… even humour !… If you have a listen to some of my work you will notice that often I use bird samples in my music… yes birds !!… I like to use the sound of wind…. the wind is always rustling in my productions… I like to use EMS VCS3 synthesisers…. and I use them to create "spot effects"… swoops and swooshes and swells…. Also I am a dab hand at using samplers, I have a thing for Ensoniq samplers and I use them to sample sounds recorded in the recording to produce trippy high frequency "running" and fast rhythmical sounds. I really love this effect! All these sounds combine to create a universe that is unique and personal. I suppose I"d describe my productions as intimate, trippy, "other worldly" and euphoric.
As well as producing, you are a brilliant A&R. What are the main differences between these two roles?
It is flattering to say that but I just see myself as A&R in the traditional sense of the role which is "Artist Development". I help to define the sound and feel of an artist's songs. I have been lucky to be at the beginning of several careers and to consult the artists along their way. I suppose a good artist developer, producer or A&R would be able to balance the artist, help to keep the right audience/artist equilibrium. Sometimes you need to give your artists confidence, sometimes you have to be there to stop them making mistakes or you have to help them take risks. I like to give artists longevity and this comes out of concentrating on the songs, making sure that the production is true to the song and not just full of new gimmicks and trends.
How is the music industry nowadays as opposed to 20 years ago and how is Melboss solving today"s music industry challenges?
The main difference is that you can do it all yourself now… but this means that for most people you have to do it all yourself… there is a lot more music out there and not all of it is great… When people have something great they need to find a team of people to help them or run the risk of their "great new thing" being lost in the "noise floor"…I"ve found some great music out there hidden on soundcloud links with 12 plays !… The people who tend to do well have employed a team of professionals to help them.
What can you share about the importance of mentorship for the new artists?
It is vital for an artist to develop a relationship with experienced music industry professionals who can give a balanced "outside" view. You must not surround yourself exclusively with "yes" people. It is important to listen to people who will point out areas of improvement rather than just listening to fans who say everything sounds great ! I have watched the careers of previously successful people drop like a stone after starting "to believe their own press". I have a look after a small group of artists on my "Remote Development, Consultation and A&R-ing service" and I find that I can give these select group great help. Some productional advice and help, some mixing help sometimes but mostly I am there to help them plan and execute their career goals. I am always able to help them in key areas. No-one is great at everything and even if the music is totally brilliant off the bat, then they need help planning their "social media" or "mastering" or "planning their gigs"… there is always something to do !
In what specific area can you help new artists?
I can help with the music, the programming, the production, artist management, artist development, social media planning, promotional campaigns, planning gigs, publishing, co-writing, organising co-writing sessions, viral marketing ideas, artwork, image, legal, copywriting their material, joining royalty collection agencies, clearing samples, making sure the music is not infringing previously published works, finding the artist"s unique selling point, keeping them grounded when they have a big hit. 🙂 managing their team, managing their band, counselling, helping the band not fall apart at a critical moment in recording, checking the tuning of the vocals, finding vocal coaches, helping finding other band members, brokering deals, introducing them to people they can"t contact, arranging record company meetings, publisher meetings, managing press and promotional meetings, finding distributers, getting on itunes aggregators, finding app maker tie ins" introducing investors, arranging Pledgemusic, Indiegogo and Kickstarter campaigns. helping the artist find their own name and artistic identity… the list goes on and on….\r\n
RECEIVE PRECISE FEEDBACK ON YOUR MUSIC AND INVALUABLE CAREER ADVICE.