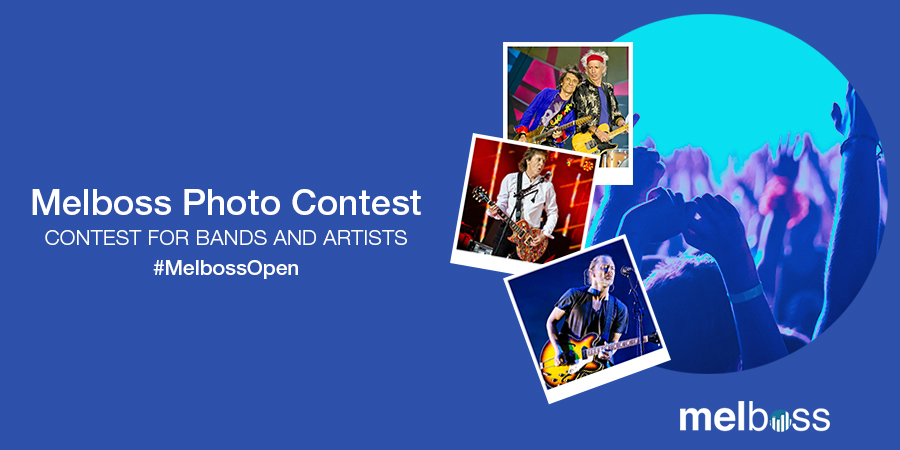 Melboss launches #MelbossOpen Photo Contest
Today is the official launch of the #MelbossOpen photo contest. It's open to all artists and bands.
The contest lasts until August 31th 2016 where 5 winners will be selected for the grand prize. We will announce the winners on the contest page as well as through social media or email.
Prize
One double invitation to the Melboss Open 2016 to be held on September 22, 2016 in Madrid at Oscar Hotel. It will be the official launch of the company in Spain with the most renowned professionals in the music scene.
An hour image consulting provided by Matias Altbach, Music Photographer (NME, Lollapalooza, Billboard, Sziget, etc …)
One session of mentoring with US mentors registered in Melboss, to choose from:\r\n

Jeff Bova: Grammy Winner Producer / Musician / Composer / Arranger (Michael Jackson, Blondie, Eric Clapton, Joe Cocker, Cyndi Lauper, Herbie Hancock, Joe Bonamassa, Iron Maiden and Billy Joel, etc …)

Marc Urselli: 3 Grammy Winner / Producer / Engineer (Lou Reed, Mike Patton, John Zorn, Laurie Anderson and others)

Irko: Multi Platinum Award Winning Audio Engineer (Jay-Z, Kanye West, Pitbull, Rick Ross, Diddy, David Guetta, etc …)

One impression of a photo by Matias Altbach to choose between his portfolio
There are 3 ways to enter
Instagram* – upload a photo with hashtag #MelbossOpen, follow and mention @melbossmusic
Twitter – upload a photo with hashtag #MelbossOpen, follow and mention @melbossmusic
Upload a photo directly on the Melboss Facebook page https://www.facebook.com/melbossmusic/app/79458893817/
*Please note if use Instagram, your profile must be public not private.
Photos accepted: photos taken in concerts or recording studios.After uploading, the photo will appear on the contest page after it has been passed through the moderation panel.
For full details about the contest, including the contest rules and how to enter please visit the contest page: contest.melboss.com