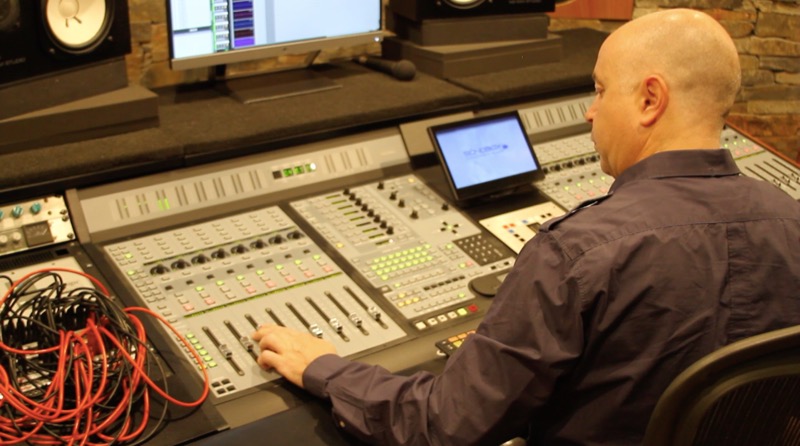 The logic behind the producer: An interview with Manuel Colmenero
Melboss mentor Manuel Colmenero is a Madrid based, award-winning producer and sound engineer. With 20 years of experience he has built up his career and worked with a diverse group of artists such as Vetusta Morla, Eladio y los Seres Queridos, Nena Daconte, Dardem and Nelou, while as a sound engineer and mixer he has worked with Enrique Morente, Joaquín Sabina, Camilo Sesto, David Bisbal, Victor Manuel, David Demaría, Bustamante, India Martínez, Pastora Soler.
He is the founding partner of the Madrid studio SONOBOX along with Javibu Carretero and has won the Independent Music Prize for best production for the album "La Deriva" by Vetusta Morla in 2015. He has also been involved in gold records, productions that have gone multiplatinum and nominations for Latin Grammys.
Enjoy Manuel Colmenero's insightful interview and connect with him at www.melboss.com/colmenero
1) How did you get into the world of production and how did Sonobox emerge?
Well, I started out as a musician, composing songs until the moment arrived when I started to think about mixes and frequencies, and I realized that I was thinking about mixes more than the guitar, and so that was when I decided to delve into sound engineering and somehow that also brought me into the world of music production, thus, my partner Javibu Carretero and I wanted to have a charming and likable place for the artists to work, but also a place to create our own work and so then sonobox was started 20 years ago, first a tiny little studio here on this same street and then here at the current studio. We came here in 2001 and since then we've been working on recordings, mixing and mastering, but mainly on music production.
2) What changes have you seen throughout the market, most specifically, within recent years?
Yeah, what I would say is that the cornerstones of production stay the same, meaning that what's most important are the songs, the artists that have solvency and then their fans. And for us it's important to act as a vehicle of their art form and manner of expression.
So, what's changed a lot are the business models and the music industry, but talented artists is something that's unstoppable as long as human beings exist, and it's not going to stop happening and so then well, what we've also seen is the disappearing of the format and beginning of streaming. In certain projects we've also seen the disappearing of the album as a concept and then the return of the single, and well, what we've always said is that we have to be the ears for both the artists and what is happening everywhere else in the world and you have to have your antenna set to understand all the changes because they're fast and can become your worst nightmare, you know?
With that said what's also obviously changed are the budgets, the flow that used to exist, both for the work and a company's budget level, and well obviously that entire transition process is what plunged the sales drop of the CD, which has now become the incorporation of streaming and once that journey through the desert began, one that we are still crossing, because streaming still isn't lets say, well organized on the level of profit, distribution and deals, so well, it's a tough journey that we have all had to adapt to and we understand that it's the present and will continue on into the future.
3) What's been the experience of investing in bands such as Vetusta Morla? Do you view the result as the face of the future, or something more temporary?
No, I think that it's a model, we had felt that we should be a company for service but also a company for projects and what we wanted was to create projects that we both really liked having a good understanding of the artist where we'd feel it'd be worth our time and well, before Vetusta we had done other things as well and since then we've continued doing them. So, the balance has been very positive because it's been a very beautiful journey where unimaginable things have happened because from our point of view, one can anticipate and visualize what might happen, but there are times where the reality places you nowhere near where you had expected. So the journey has been precious and well, lets say it also confirmed for us that we should continue creating projects not just us but with other managers and other agents, because just like that is how the industrial panorama goes; if we don't do it with everyone, then what do we do with that talent over there, for me it's important, it's not a temporary thing, it's something important that we have always done and will continue doing.
4) What do you think about the music industry opening up it's borders and encouraging collaboration among different components of the industry?
I think that many musical styles started through fusions, blends and collaboration between different art forms, approaches and plans, I think that open borders will always be a positive thing, it'll always be totally positive and rewarding the fact that the internet has no boundaries and has created a parallel larger than music itself is something I think that everyone has gained from and I think it can attract tremendous opportunities for a lot of people, plus, if it can connect, meaning open up more immediate and direct access, I think that it's a magnificent idea and that it's the situation we're currently in.
5) Do you see the role of a mentor as the face of the future?
Well, I think that it's something we've been doing behind the scenes for many years in fact, when you get into music production you end up mentoring in a natural way, and the fact that now not everything passes through the filter of a label anymore but that there are artists who self-produce, lets say pay for their own records and also ask us for work, so what happens then for us is recognition, the shining of a spotlight because we've been in the background and now we're in the spotlight as here are these guys that do this stuff, so, I mean I think it's a great idea and I've always felt that in the Anglo-Saxon world there's always been that recognition and value of the mentor and well, it's good that Spain starts to recognize it as well, but again, it's something that we've always done and what's happening now is that it's being given light.
6: What advice would you give to an artist who is trying to further develop their career?
I would say that first it's important to develop and establish yourself, it's the most important,I mean, be clear about what it is you're doing and you have to spend many hours on that and then you have to carve out your own personal identity to achieve your own path so, don't pretend to be this or look for that because that's the most recent pattern occurring in the market nowadays, with that said, I think that that's what time has shown us doesn't work and that those who really achieve success in a world like this one, full of talent and daily content are those who are somehow unique and that's always going to be a risk but I think that that's really the key so, you need to pass through two major strifes, first, establish yourself, sing and play well and then the second step is to find and develop your own unique identity, something that gives you personality, no one is free of influence, but there's always room to take in influences while maintaining your own style.