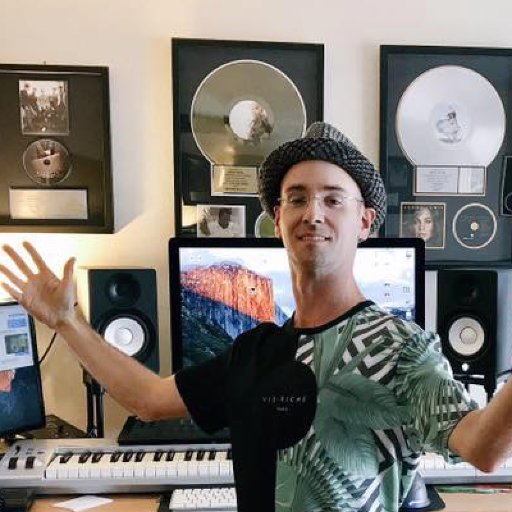 1. First of all, tell us a little bit about yourself. How did you get into the music industry?
I always had a deep love for art since an early age and probably studied like not many did. I used to practice the piano 10 hours a day, transcribed hundreds of albums, went to workshops with elite Jazz and Latin music leaders, got my classical music graduations at 18 and been asked to teach since i was 19. I fully embraced social media and developed relationships with some of the biggest names in the music industry. I've constantly found solutions to get to the next level, mostly by thinking outside of the box which led me to have my music going 4 times to the Grammys in 3 different music genres and now working with elite technology companies that have global impact.
2. What are you working on now and what have you worked on recently?
I'm HyperMaster Audio ( Head Of Audio ) for 1 of the most talked about technology project around the world: The Hyperloop ( our company Hyperloop Transportation Technologies went viral twice already and is constantly on the largest medias ). Some of my work for the company premiered at SXSW where we were featured speaker. I collaborate with well known music influencers and stars that I'm bringing on board and a very few highly selected developing artists ( life changing situation for these ). I produced and co-wrote the Anthem song for the company ( co-written with former American Idol artist Josiah Leming )
I'm also designing the sound for Project Nourished which is the 1st Gastronomical Virtual Reality Experience, we've already been all over the press with this company worldwide as well.
I'm producing and mentoring developing/independent artists almost on a daily basis. Given the very high amount of requests I get regarding mentoring, I'm putting together a few programs that should be ready soon.
3. What would you say is most beautiful about the craft of creating music and the most rewarding?
The most rewarding part is to create magic moments with and for people. Artists often come to me with nothing and usually leave the studio with a huge smile on their face, they feel like they went to self realization process. This is truly magical. Giving huge opportunities to the most deserving artists I work with is very satisfying as well.
4. What do you look for in an artist?
uniqueness, business mind, knowing what they want, constantly learning, open minded, well educated and respectful
5. What is the biggest mistake a band can make when trying to gain industry attention?
looking for being signed. This model is dead. I created infographics on the subject and show how current successful artists are making it big time without any labels.
I sometimes meet with artists who have a very strong opinion on how they can make it; they re often hanging on to a radio play opportunity or potential signature, 99% of the time this will do nothing for their career. It's about time to be aware of what s going on nowadays…
6. A lesson you learned early on in your career that you would pass along to up-and-coming Artists?
U need gifted influential people ( mentors ) to help building your career, they can be difficult to access. Instead of asking them for help ( millions do that ), approach them by providing value ( how can u help them in their own business ? ). Suddenly U ll see that U picked their interest and started a discussion !
8. What can artists expect from you as a mentor?
A real mentor is life changing. I've experienced this since an early age being mentored by the strongest music characters I could find. Each time i was spending time with them, I was going home with fresh ideas to work on for months and inspiration for life. I was starving for spending as much time as I could with them.
Because of how much I studied and my achievements, I've been asked to teach and mentor for elite schools and programs worldwide since I'm 19, I definitely developed a track record of putting people in life changing situations on a regular basis once they're ready. It's very natural to me to help and share my knowledge.
I would actually like to name a few of my mentors: for jazz music: Benoit Sourisse, Andy Emler; for latin music: Olivier Congar, Rolando Luna, Carlos "El Bola" Betancourt, Melon…; for classical music: Christian Janin and Jacques Delannoy.