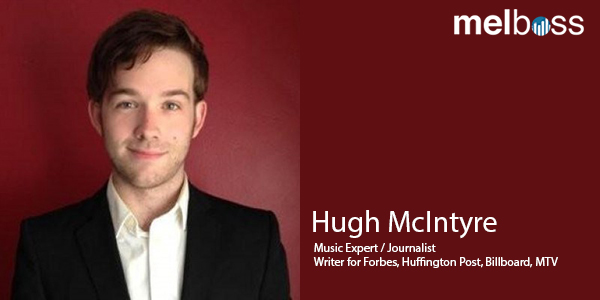 We are excited to share our latest interview with Melboss newest Mentor Hugh McIntyre. In June 2014 he was the #1 most popular Forbes writer in the world according to internal online statistics and published pieces as a leading voice on the music industry for the publication.
Hugh McIntyre is a writer/music journalist from New York City that worked for The Huffington Post, Billboard, Mashable, Noisey, The Hollywood Reporter, MTV, and various other magazines and blogs around the world. He is also the Chief editor of the blog Pop! Bang! Boom!, a daily blog about pop music, with a focus on new talent, sales, chart numbers, and marketing with more that 500,000+ total reads in over 95 countries.
1. When did you start writing about music and what or who were your early passions and influences?
I started writing about music when I was in college, and then it was just for fun. I started my own blog called Pop! Bang! Boom!, which I don't write any longer, but which still exists online. I always loved sharing new music with friends, so I used it as a place to get all of that great new music out into the world.
2. What are your main impulses to write about music? What do you personally consider to be the incisive moments and pieces in your journalistic work and/or career?
I mostly write about the business of music these days, as the outlets that I focus on has changed. think I have written quite a few pieces that look into the future of the streaming industry of the exciting changes happening to the charts here in the States, but I pride myself on keeping things to a readable length and explaining everything in a way that anybody can understand, not just those already working in or following the music industry.
3. How would you describe and rate the music scene of the city you are currently living in and how important is it in terms of what you're actually writing about?
I live in New York City, so you can't say that there's no music scene there! In fact, it's partially what makes me able to do the work that I do, because there are so many people in the industry based in NYC.
4. What are currently your main challenges and ambitions as a music writer?
My main challenges are similar ones that anybody in the industry faces. There is so much going on, and it seems like everything changes all the time. It can be really difficult to keep track and keep up, especially when I follow and write about so many different aspects of the industry. I aspire to understand the business better from all angles, and I don't just want to know the big players. I want to help discover great startups, as well as explain what some of the most successful companies are doing. I also want to bolster some of the outlets I write for to new heights.
5. How do you think a music journalist can help the music career of an artist?
Press is always a good thing, as it helps people who might not have otherwise heard you at least see your name, and potentially listen to your music. It isn't the only thing that artists need when they are growing a career, but it definitely helps.
6. As more and more people are producing and releasing music, there has been an exponential growth in promotion agencies. What's your perspective on the promo system?
I have no problem with getting pitched, but I do think that the way PR works now is broken, at least for the most part. I get so many emails a day I've essentially stopped opening them, and it's because there are so many PR people and companies these days that just spam writers. They aren't interested in knowing what somebody likes or what an outlet is really looking for, they just want to tell their clients that they tried to get them into every outlet possible. I know I'm missing out on great music and opportunities, but sifting through the emails has just become too much, and it's not fun anymore, it's a drag.
7. How do you see the role of music journalism in the creative process? Should it amplify public taste, distinguish the good from the bad, inform, promote artists, or, as Howard Mandel put it, illuminate, educate and entertain readers? 
Music journalism should be everything: the good and the bad. There are so many blogs that seem to only highlight the great these days, or at least they say that everything is great. I have always respected outlets that are willing to say negative or middling things about a new song, album, or artist, if that's what's true. I hate watered-down, political music writing. If something is bad, just say it! I do like when people go out of their way to promte new acts, though as I mentioned, it has become tougher to sift through the masses that get thrown at you from every direction.
Get precise feedback on your music and invaluable career advice: melboss.com/hughmcintyre
CONTEST DETAILS