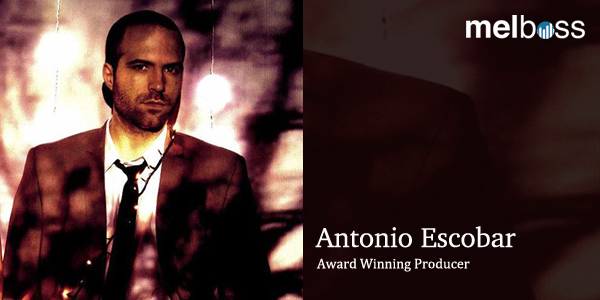 We are excited to share our latest interview with Melboss mentor and Award Winning music producer Antonio Escobar.
He is a well known composer of music for advertising, being the author of some of the most recognized anthems for brands such as Coca-Cola, Amena, Movistar, Renault and international artists such as John Legend, Dan Croll, Jorge Pardo, Quiero Club, Nena Daconte, Anni B Sweet, Nach, Carlos Rivera, OBK, Carlos Baute or Amaral, among many others.
1. How did you start producing and what gave you the motivation to stay with it?
Production was a natural evolution from my interest in songwriting: I wanted to sculpt what I had in my head to then take my songs to another level. I understood pretty soon that production could change a song in a dramatic way and I was really interested in exploring that path.
2. What other producers, songwriters and/or artists do you see as your primary inspirations?
At the very beginning, my main influences were electronic and indie bands such as Depeche Mode, The Cure, New Order, Front 242, U2, and later on other bands such as Radiohead, Prodigy, Portishead, Massive Attack. I learned basic skills from those great bands, but to be honest, not much of a footprint has been left by them in how I actually understand music nowadays. Throughout the years, I've developed my own language and now I push myself to be connected with everything around me, indie or mainstream.
3. Do you have a favorite musical project that you've worked on?
Every work is like a child to me and I feel very lucky to be rewarded with great projects all the time. If I had to choose, I would say my own (unknown and unsuccessful) projects and bands where I experiment with tricks and sounds, some of which I use later in other projects.
4 How did you get the opportunity to work with international artists such as John Legend?
Although I work with Spanish bands and artists all the time and love the talent and the passion that we have, I've never listened solely to Spanish music, being more connected with the international scene than the local one. That worked as an advantage because it developed my personality and skills as a music producer/composer viagra qu. I've been requested a lot of times by people looking for something different, if a project is very big or when it needs to be updated, that creativity is connected to my background as an advertising music composer in a time when being cutting edge was required by the industry.
5. Budgets for productions are being reduced and more and more people are choosing to listen to music in compressed formats and on low-quality playback devices. In which way is this affecting music and how would you rate the state of production today?
Budget reduction made me become a harder competitor because you have to do more with less, but it allows more people to be able to record songs; having more music can't be bad. In terms of playback devices, the main issue with low quality devices is that you have to make the biggest impression with the smallest amount of sound which needs a very accurate mixing technique. Luckily, the amount of power that we have in new technology is giving everyone the opportunity to produce music, and more people making music adds more creativity and diversity to the scene.
6. How can you help artists as an Award winning producer and mentor?
I'm sure that my experience in almost any genre and my background in several industries (film, records and advertising mainly) can be handy.